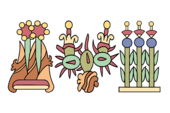 The Aztec Empire, or the Triple Alliance (Template:Lang-nah, [ˈjéːʃkaːn̥ t͡ɬaʔtoːˈlóːjaːn̥]), began as an alliance of three Nahua "altepetl" city-states: Mexico-Tenochtitlan, Texcoco, and Tlacopan. These three city-states ruled the area in and around the Valley of Mexico from 1428 until they were defeated by the combined forces of the Spanish conquistadores and their native allies under Hernán Cortés in 1521.
Community content is available under
CC-BY-SA
unless otherwise noted.