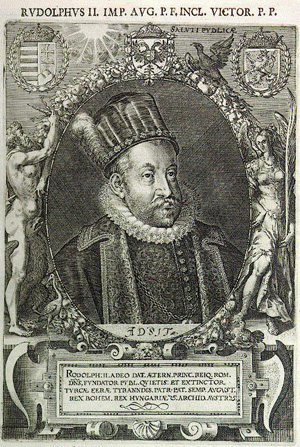 Rudolph (1552 - 1612) was the Holy Roman Emperor (as Rudolph II) 1576 until 1612, the King of Hungary and Archduke of Austria from 1576 until 1608, the King of Bohemia from 1576 until 1611, and the Count of the Tyrol from 1595 until 1608. Rudolph is remembered as one of the most eccentric monarchs in European history.
Rudolph was born in Vienna on 18 July 1582 to the Emperor Maximilian II and Maria, Maximilian's first cousin. Rudolph succeeded his father after his death in 1576. Despite being well educated and intelligent, Rudolph was a relatively poor ruler as he suffered clinical depression and became insane in later life. Other members of the Habsburg family slowly took over Imperial affairs from him across his reign. Rudolph was a keen supporter of the arts, sciences, and alchemy, and he brought to his court the likes of painter Giuseppe Arcimboldo, astronomer Tycho Brahe, mathematician Johannes Kepler, and alchemists John Dee and Edward Kelley. He kept a menagerie of exotic animals, and it was rumoured he collections of dwarves and an army of giants. The mystical reputation of Prague originates from Rudolph's reign, and places associated with him are popular tourist destinations.
As emperor, Rudolph reversed his fathers tolerant policies to Protestantism and was an avid supporter of the Counter-Reformation. After his attempts to impose Roman Catholicism in Hungary led to a revolt by Stephen Bocskay with support from the Ottomans in 1604 - 6, Rudolph's brother Matthias usurped most of the ruling power. In 1608, Rudolph was forced to cede Moravia, Austria and Hungary to Matthias. Rudolph countered by seeking to gain support from the Bohemian estates by issuing a royal charter granting religious freedom to the nobility and cities, but in the Brothers' War he was forced to cede Bohemia also to him in 1611. Rudolph died in Prague on 20 January 1612.
Community content is available under
CC-BY-SA
unless otherwise noted.