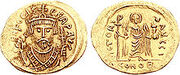 Phocas (547 – 5 October 610) was Byzantine Emperor from 602 to 610. He usurped the throne from the Emperor Maurice, and was himself overthrown by Heraclius after losing a civil war.
Phocas was a Greek-speaking native of Thrace. Almost nothing is known of Phocas's early life and the name of his father is unknown. His mother was named Domentia (or Domentzia). He had at least two brothers, Comentiolus and Domentziolus.
By 600, he was a subaltern officer in the Byzantine army serving in Maurice's Balkan campaigns, and he was apparently viewed as a leader by his fellow soldiers. He was a member of a delegation sent by the army in that year to Constantinople to submit grievances to the government. The Avars had defeated the Byzantines in 598, had taken a large number of prisoners, and demanded a ransom. Maurice refused to pay and all the prisoners were killed, causing consternation among the army. The delegation's complaints were rejected, and, according to several sources, Phocas himself was slapped and humiliated by prominent court officials at this time.
Community content is available under
CC-BY-SA
unless otherwise noted.