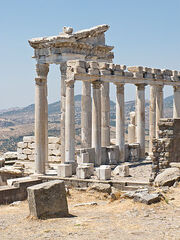 Pergamon was an ancient city located in the Anatolia region, approximately 25 kilometres from the Aegean Sea in present-day Bergama, Izmir Province of Turkey. The city had great strategic value, since it overlooked the Caicus River Valley (modern name Bakırçay) which provided access from Pergamon to the Aegean coast. Pergamon reached the height of its influence during the Hellenistic period, becoming the capital of the Attalid kings. During the Roman period the city was the first capital of the Asian province, but it eventually lost this status to local rival, Ephesus.
Community content is available under
CC-BY-SA
unless otherwise noted.