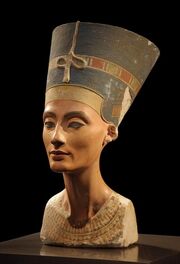 Nefertiti (c. 1370 - c. 1336 BCE) was the wife of the pharaoh Akhenaten of the 18th Dynasty of Egypt. Her name means, `the beautiful one has come' and, because of the world-famous bust created by the sculptor Thutmose (discovered in 1912 CE), she is the most recognizable queen of Ancient Egypt. She grew up in the royal palace at Thebes, probably the daughter of the vizier to Amenhotep III, a man named Ay, and was engaged to his son, Amenhotep IV, around the age of eleven. There is evidence to suggest that she was an adherent of the Cult of Aten, a sun deity, at an early age and that she may have influenced Amenhotep IV's later decision to abandon the worship of the gods of Egypt in favor of a monotheism centered on Aten. After he changed his name to Akhenaten and assumed the throne of Egypt, Nefertiti ruled with him until his death after which she disappears from the historical record.
Community content is available under
CC-BY-SA
unless otherwise noted.