The Free English History Encyclopedia.
Featured article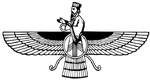 Zoroastrianism
(or
Mazdaism
) refers to the religion developed from the teachings of the
Persian
prophet
Zarathushtra
(c. tenth century B.C.E.), who is commonly known in the West as
Zoroaster
. Zoroastrians most commonly refer to themselves as Zartoshti ("Zoroastrians"), Mazdayasni ("Wisdom-Worshippers"), and Behdini ("Followers of the Good Religion"). In
India
, they are known as Parsis ("People from Pars," which refers to the Persian heritage of the group). (
Full article...
)
About the History Wiki
History Wiki is a free encyclopedia that can be edited by anyone, and in hopes to bring the History Wiki as the biggest encyclopedia ever to feature historical events. The History Wiki features many articles that users have created, and you can add articles about any certain time in History too.

It has been edited by 5 different users in the past 30 days, and has been edited 26,284 times since it first went online.
The
Editing
| | | |
| --- | --- | --- |
| Where to start ... | Adding to the wiki ... | Socialize with members ... |
Poll
What is your favourite war?
Current Events
-
Late 2015:
Akamichi
adopted the
History Wiki
.
4.08.2017: New dark theme + Monobook Theme being worked on. - Ended
8.04.2017: Older theme reintroduced, being worked on.
3.29.2019: A new design is coming. The old infoboxes will be redone and will be portable.
Notice
NOTICE: The History Wiki is still being updated as much as it can be, we can use all of the editors we can get.