| | |
| --- | --- |
| | hidable monobook-hide |

The Free English History Encyclopedia.
Featured article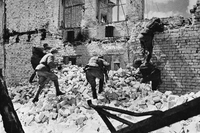 World War II
was a
global war
that lasted from 1939 to 1945, although related conflicts began earlier. It involved
the vast majority of the world's countries
—including all of the
great powers
—eventually forming two opposing
military alliances
: the
Allies
and the
Axis
. It was the most widespread war in history, and directly involved more than 100 million people from over 30 countries. In a state of
total war
, the major participants threw their entire economic, industrial, and scientific capabilities behind the
war effort
, erasing the distinction between civilian and military resources. World War II was the
deadliest conflict
in
human history
, marked by 50 million to 85 million fatalities, most of which were civilians in the Soviet Union and China. It included
massacres
, the deliberate
genocide
of
the Holocaust
,
strategic bombing
, starvation, disease and the first use of
nuclear weapons
in history. (
Full article...
)

\
Current Events
-June 26, 2020: Johnny Sins took over the History Wiki.
Notice
NOTICE: The History Wiki is still being updated as much as it can be, we can use all of the editors we can get.
Community content is available under
CC-BY-SA
unless otherwise noted.