I'm writing an article about history of Leicester Square in London, building by building. Will post the draft here, and improve it Dinki (talk) 21:55, March 19, 2018 (UTC)
Capital City of United Kingdom
Westminster
Edit
Leicester Square
Edit
History, topography, POI
IT'S Leicester Square Gardens
Edit
In 18th century area was called Leicester Fields.
and Leicester Fields, as the place used to be styled, were a favourite resort of duellists. 1865
First houses were built here in the 1660's
---
Leicester Estate / Leicester House
Edit
Robert Sidney, second Earl of Leicester (HENCE THE NAME), built a residence here in 1636.
Leicester House was more than once the residence of royalty - from 1712 to 1760 Leicester House served as a palace for two princes of Wales.
1771 - Holophusicon. Sir Ashton Lever converted Leicester House to a 'museum of curios­ities'
Sir Ashton Lever - At first he collected live birds, and his aviary at Alkrington was then reputed to be the best in the kingdom. About 1760 he purchased at Dunkirk several hogsheads of foreign shells, and for a time his whole attention was taken up with shells and fossils. Stuffed birds next occupied his attention, and ultimately all kinds of natural objects and savage costumes and weapons were added to the collection, which became famous and attracted many visitors. In 1774 he was induced to remove his museum, to which he gave the name of the 'Holophusikon,' to London. Taking Leicester House, in Leicester Square, he filled sixteen rooms and various passages and staircases with his curiosities, and advertised that they were to be seen each day from ten to four, 'admittance 5s. 3d. each person.' </b>He was a good naturalist, and a man of varied accomplishments, but grew eccentric in dress and manner. </b>Madame d'Arblay has left a curious picture of the grotesque figure he presented when she visited the museum in 1782 (Diary, ed. Barrett, i. 495).
Excessive outlay on the museum impaired his fortune. After it had been valued before a parliamentary committee at 53,000l. it was offered at a moderate sum to the British Museum in 1783, but the museum trustees declined to buy it. In 1788 Lever obtained an act of parliament to dispose of it by a lottery of thirty-six thousand tickets at a guinea each, of which, however, only eight thousand were sold. The museum fell to a Mr. James Parkinson, who exhibited it in a building called the Rotunda, erected for the purpose on the Surrey side of Blackfriars Bridge.
Karl Marx also lived in a hotel — then The German Hotel, now Leicester House — close to Leicester Square, on arriving in London in 1849.
"Marx's early days in London were those of abject poverty. Evicted from their lodgings in Chelsea the Marx family decamped to the German Hotel in Soho. In those days the German Hotel was the home of many revolutionary exiles from Germany Austria, Italy and France. They stayed there in April and May 1850 but had to leave again when they were unable to pay the £5 a week rent.
One morning our host refused to serve us our breakfast and we were forced to look for other lodgings. - Jenny Marx
---
http://leicestersquarecityblock.myblog.arts.ac.uk/2013/11/06/history/
---
Swiss clock and glockenspiel
Edit
Is where the Swiss Centre was until demolished in 2008, the original clock sadly went with it. But in 2011, Westminster Council rebuilt the glockenspiel just a few metres from where it originally stood, along with a restored clock, which is now controlled remotely from Derby. Every hour, the figurines, representing traditional Swiss farmers, move.
---
The Leicester Garden
Edit
In 1748 the statue of George I, which was later to be the subject of much verbal and physical abuse, was erected in the centre of the garden (Plate 50c, fig. 99). The statue represented the King 'on horseback in Armour', with 'Trophies of Warr' on the panels of the pedestal. It had been modelled by C. Burchard in about 1716 for the first Duke of Chandos and erected in the garden of his house at Cannons; John van Nost, the elder, had cast and gilded it. (fn. 158) The second Duke of Chandos was groom of the stole to Frederick, Prince of Wales, (fn. 24) and it was presumably he who gave or sold the statue to be erected in the square, shortly before the demolition of Cannons in c. 1750. (fn. 77) It was 'uncovered' on the occasion of the Princess of Wales's birthday on 19 November 1748.
The equestrian statue of George I is reliably stated to have been buried several feet beneath the centre of The Great Globe of James Wyld.
After the removal of the globe in 1862 the statue had been replaced in its former position, 'with one leg, astride a goblin horse on three legs, propped by stakes', (fn. 191) and on at least one occasion the effigy of the King had been 'thrown from its saddle to the ground'. (fn. 161) During the night of 16–17 October 1866 a number of practical jokers, assisted by the property-room artists of the Alhambra, embellished the grotesque object with a dunce's cap, a broomstick and a rash of painted spots (fn. 192) (fig. 99).
The middle of the square was used for exhibitions (notably in the form of the Great Globe)
---
The Great Globe of James Wyld (1812-1887)
Edit
The Great Exhibition of 1851 with its giant scale map of the earth. Wyld, a member of Parliament, distinguished geographer, and publisher of atlases, envisioned an exhibition of his own in the center of Leicester Square for the Great Exhibition for 1851.
This huge erection was sixty feet in diameter, and remained in existence till 1861, when it was pulled down to make way for entertainments combining instruction with pleasure.

His exhibit featured a global map of the world, 60 feet in diameter and surrounded by exhibition rooms. The map on the inner surface of a large globe was viewed from four landings.
After the expiration of the ten year lease, it was removed in 1862, making room for the center garden of Leicester Square to be built.

The view in 1851 is south from Coventry Street across Leicester Square
The four-stage viewing gallery inside Wyld's Great Globe in 1851
This image of the Globe (with completed galleries) shows a placard bearer in the foreground advertising one of Wyld's competitors: The Panorama of Paris and Versailles.
Leicester Garden
Edit
gardens were laid out in 1874, with a central fountain and statue of Shakespeare and busts of notable former residents at each corner.
https://en.wikipedia.org/wiki/Statue_of_William_Shakespeare,_Leicester_Square
---
Empire Theatre, Leicester Square
Edit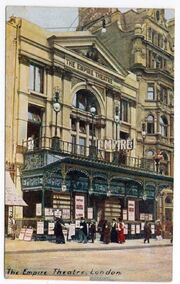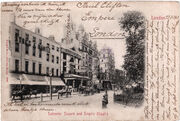 History, photos
History of Empire Theatre http://www.arthurlloyd.co.uk/Archive/May2004/
The Empire Theatre, Leicester Square. Illustration for The Illustrated Sporting and Dramatic News, 3 May 1884.

The Empire Theatre of Varieties was also closed in 1927
---
Queen's Hotel
Edit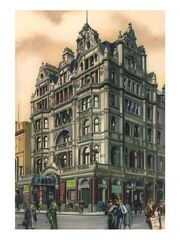 Now hosts Napoleon's Casino, Premier Inn and Ruby Blue.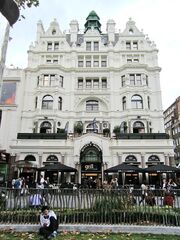 Grand Dining Hall, Queen's Hotel, Leicester Square. Illustration for The Modern Building Record Volume One Public Buildings (Charles Jones, 1910).
---
The Barker/Burford Panorama – Daly's Theatre
Edit
– featured painted panoramas in a large circular building located just off Leicester Square in 1792. The artist responsible was Robert Barker and displayed exhibits of city views including New York and Jerusalem, and sieges of Sebastopol and Lucknow. Northeast of the Sqaure.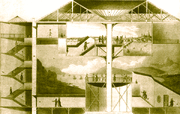 ---
Prince Charles Cinema
Edit
https://en.wikipedia.org/wiki/Prince_Charles_Cinema Website https://princecharlescinema.com/PrinceCharlesCinema.dll/Home
Director Kevin Smith got toilet cubicle named after him (LADIES TOILET):
The Prince Charles Cinema on Leicester Place, just north of Leicester Square, is known for its quirky lightbox messages. What fewer people know about is the toilet cubicle named after film director Kevin Smith. Apparently, on visiting the cinema for a Q&A session in 2007, Smith complained that Quentin Tarantino had a bar named after him, despite never having visited the cinema. So the cinema staff did the only decent thing and named a toilet cubicle after him, complete with framed photo on the cubicle door. To add insult to injury, the toilets have been swapped in recent years, so the Kevin Smith Cubicle is now in the ladies.
---
Odeon Leicester Square
Edit
http://www.theatre-architecture.eu/db.html?theatreId=1034
---
The Alhambra Theatre
Edit
The Royal Panopticon of Science and Art close in 1856 and become the Alhambra Theatre. In 1858 the circus ring was installed
The fire in 1882 gutted the building but left the exterior masonry and part of the internal structure standing. The rather less spectacularly decorated reconstruction was again Moorish in character, retaining original columns and arches but bringing the auditorium into a more theatrical appearance with lyre-curved tiers.
There are impressionist paintings by Spencer Gore, who attended shows in Alhambra
History of the theatre in article http://www.arthurlloyd.co.uk/Alhambra.htm
The building was demolished in 1936.
---
In 1937 on the site of the Alhambra Theatre and adjoining Turkish baths Odeon Leicester Square was built.
Pix of LSQ before 2012 renovation
Edit
https://www.google.co.uk/search?q=leicester+square&safe=strict&rls=com.microsoft%3Aen-GB%3AIE-Address&biw=1920&bih=986&source=lnt&tbs=cdr%3A1%2Ccd_min%3A%2Ccd_max%3A1%2F1%2F2012&tbm=isch#imgrc=7Dd0U1lb8FQwaM:&spf=1494655618502
---
---
Sabloniere Hotel
Edit
Was next to Alhambra. Famous for its French cooking and conversation. It was located on the east side of Leicester Square from 1788 to 1867. https://www.lookandlearn.com/history-images/XJ104460/Paglianos-Sabloniere-Hotel-Leicester-Square-London?t=0&q=leicester+square&n=64
Picture - The view is west from Panton Street on the south side of Leicester Square http://leicestersquarecityblock.myblog.arts.ac.uk/files/2013/11/leicester_sabloniereUD.gif
---
Telecomunication Building
Edit
Reynolds House
Edit
---
the Western Literary and Scientific Institute
Edit
Located on the west side of Leicester Square and founded in 1825 by a group of professionals and scientists. The organization was open to members only, and included a library, classes, and lectures on topics in literature and science.
---
Hippodrome
Edit
https://www.flickr.com/photos/warsaw1948/6928477928/in/album-72157629469822347/ The London Hippodrome was built in 1900 by Frank Matcham for Edward Moss for £250,000 as a hippodrome for circus and variety performances. The venue gave its first Circus show on 15 January 1900. The first show ever given was a music hall revue entitled 'Giddy Ostend' with Little Tich and (in one of his first roles) Charlie Chaplin. Entry to the venue was through a bar, dressed as a ship's saloon and the performance space featured both a proscenium stage and an arena that sank into a 230 ft, 100,000 gallon water tank (400 tons, when full) for aquatic spectacles. The tank featured eight central fountains, and a circle of fountains around the side. Entrances at the side of the auditorium could also be flooded, and used for the entry of boats. Shows included equestrian acts, elephants and polar bears, and acrobats would dive from a Minstrel Gallery above a sliding roof, in the centre of the proscenium arch. The auditorium featured cantilevered galleries, removing the columns that often obstructed views in London theatres, the whole was covered by a painted glass retractable roof, that could be illuminated at night."
---
Renovations of Leicester Square in 1990s, 2012 & 2016
Edit
---
Charing Cross road – 50 years comparison
Edit
Photo stream https://www.flickr.com/photos/warsaw1948/6928479616/in/photostream/ Among others: old pictures of Hippodrome (front & interior) OLD Radisson Pastoria (photos) Voice of Darth Vader stayed in Pastoria Hotel when in London http://www.londonhotelscentre.com/pastoria.htm http://www.cntraveler.com/story/west-elm-hotels-is-revolutionizing-the-hotel-industry http://www.cntraveler.com/story/you-can-have-a-michelin-star-picnic-in-londons-hyde-park Phone Booth in front of Hampshire Removed during 2012 renovation, but Sir Micheal Caine came with his name just in front of our hotel! "Actor Sir Michael Caine was given the name Maurice Joseph Micklewhite at birth. While on the phone to his agent from a phone box in Leicester Square, he was told to come up with a stage name — until this point he was working as Michael Scott, but there was already an actor by this name in London. He looked up at the nearby Odeon where The Caine Mutiny was showing, and the rest is history. In 2016 he changed his official name to Michael Caine."
---
Royal Dental Hospital
Edit
Established in 1858 to 1988. In 1897 the number of patients treated was over 62,000. In 1899–1901 the present building was erected to the designs of Messrs. Young and Hall. The cost of the building was nearly £50,000, and the contractors were Messrs. Trollope. In 1901 King Edward VII granted royal patronage to the hospital.
"The hospital front is an eclectic Renaissance design, built in red brick and buff terra-cotta. There are four lofty storeys above an arcade containing shop fronts and mezzanine windows. The composition is asymmetrical, with two bays in the curved face to the left, and three bays in the straight face to the right of the entrance feature, which is three windows wide."
OLD HAMPSHIRE Hotel (Before 2007)
Edit
https://www.milesfaster.co.uk/images/wc2/radisson-hampshire/ (bottom)
"" http://www.coventgardenlife.com/places.asp?PlaceID=305
Apex Restaurant & Bar
Edit
31–36 Leicester Square Leicester Square London WC2 78LH
Apex, as the name suggests, occupies a corner and a spectacular corner it is, being on Leicester Square in the heart of the West End.
A welcoming, cool interior offers immediate respite to the hungry and weary. Tables in dark wood and comfortable upholstered chairs offset the table settings of crisp linen with tall glasses reflecting candle light.
Imagination and thought have gone into the setting and the cuisine. Be prepared for combinations of texture and taste that will surprise and delight. Roasted scallops and black pudding with cream shallots sauce and truffle oil head the choice of starters, with pickled ox tongue, red peppercorn salsa and creamed horseradish another example of derring-do. Main courses offer similar forays into new and exciting combinations: baked cod fillet with bubble and squeak and lime and red wine sauce: grilled mackerel fillets with leek and potato sausage and sweet tomato sauce.
Community content is available under
CC-BY-SA
unless otherwise noted.