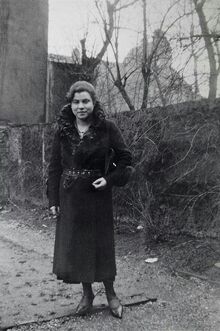 Auguste van Pels (29 September 1900 - April 1945[9]), (Petronella van Daan in Anne's diary), born Auguste Röttgen (Hermann's wife), whose date and place of death are unknown. Witnesses testified that she was with the Frank sisters during part of their time in Bergen-Belsen, but that she was not present when they died in February/March. According to German records (her registration card), Mrs. van Pels was sent to Bergen-Belsen concentration camp in Germany with a group of eight women on November 26, 1944. Hannah Goslar's testimony was that she spoke to Mrs. van Pels through the barbed wire fence "in late January or early February". Auguste was transferred on February 6, 1945 to Raguhn (Buchenwald in Germany), then to the Czechoslovakia camp Theresienstadt ghetto on April 9, 1945. This same card lists her as being alive on April 11, 1945. As such, she must have died en route to Theresienstadt or shortly after her arrival there, the date of her death occurring most likely the either the first half or mid-April 1945, but before May 8, 1945, when the camp was liberated.[10][11] Rachel van Amerongen-Frankfoorder, eyewitness of Auguste's death, states that the Nazis murdered her by throwing her on the train tracks during her last transport to Theresienstadt in April of 1945.[12]
The dental checkup (as in Anne Frank's diary)Edit
Dussel has opened his dental practice. Just for fun, I'll describe the session with his very first patient.
Community content is available under
CC-BY-SA
unless otherwise noted.