An acropolis is any citadel or complex built on a high hill. The name derives from the Greek Akro, high or extreme/extremity or edge, and Polis, city, translated as 'High City', 'City on the Edge' or 'City in the Air', the most famous being the Acropolis of Athens, Greece, built in the 5th century BCE. Though the word is Greek in origin, it has come to designate any such structure built on a high elevation anywhere in the world. The Castle Rock in Edinburgh, Scotland, for example, upon which looms the famous castle, was fortified as early as 850 BCE and would be known as an acropolis, as would be those cities of the Maya Civilization which fit that definition, even if they were not built on a natural elevation. Although there were other city-states in ancient Greece boasting an impressive acropolis (such as Thebes, Corinth and, most notably, at Kolona on the Island of Aegina), and the designation 'acropolis' was also used in Ancient Rome for a series of buildings set on a higher elevation than the surrounding geography, in modern times the word 'acropolis' is synonymous with the ancient site at Athens.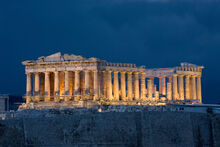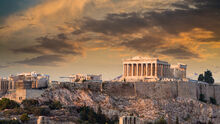 Community content is available under
CC-BY-SA
unless otherwise noted.